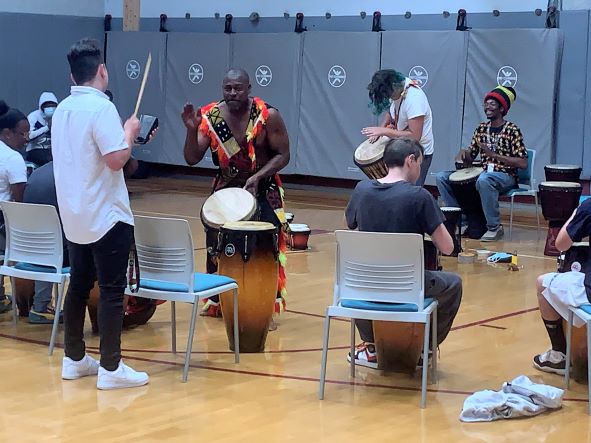 Juneteenth, also known as Freedom Day, was not lost on the children at Elmcrest. This federal holiday commemorates the day in 1865 when Union soldiers arrived in Galveston, Texas to order freedom for the enslaved people of the state. This did not occur until two months after the Confederacy had surrendered in the Civil War.
At Elmcrest, no delay kept the boys and girls from celebrating this holiday. Shereen Webb, Director of Residential Education and Employment at Elmcrest planned the celebration. Tyrone Dixon, Elmcrest's DEI Director, invited Ruthnie Angrand, from the Syracuse Juneteenth Committee to speak to the children. She uses arts and crafts to demonstrate many of these cherished customs and storytelling to keep the history of Juneteenth alive from their homes to the community and back.
Enhancing this day's celebration was the African drumming performance by Ellis Dudley of the African Dance Troupe, Amani Bowale. These artists introduce cultural expression through drum and dance. "Peace with an African Essence" is their way of instilling pride in the community.