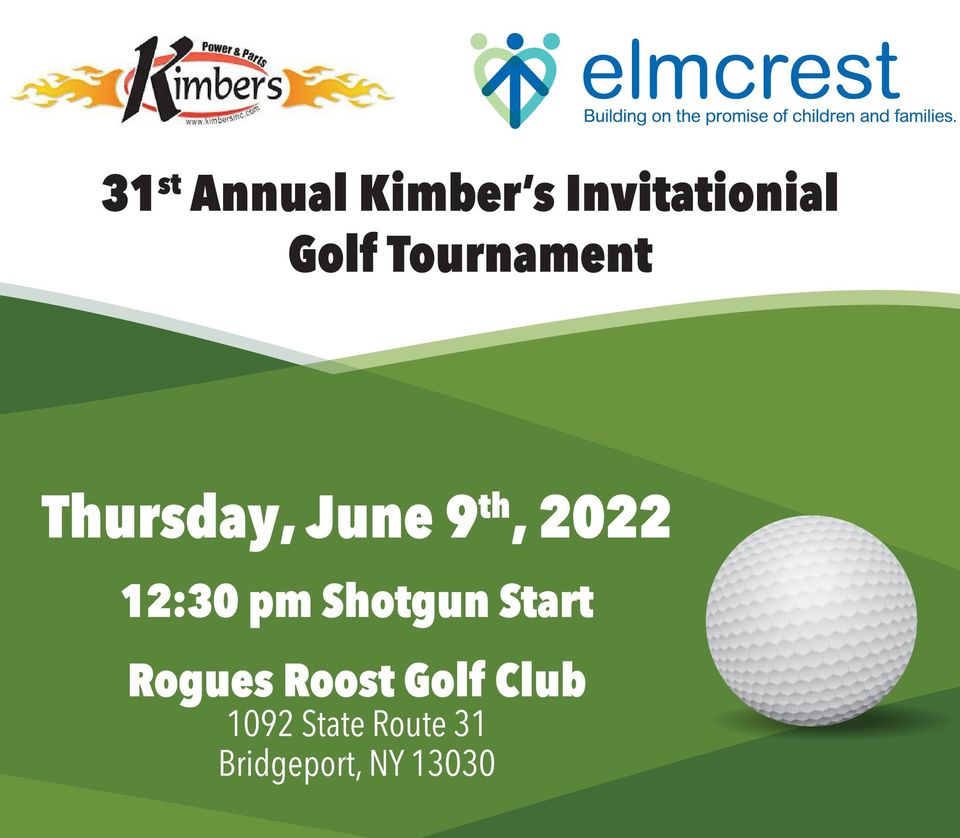 Thursday, June 9th, Elmcrest held its 31st Annual Kimber's Golf Tournament. No sunny skies greeted that morning — grey clouds, heavy rain, and the promise of a cloudy afternoon. They came anyway – 228 golfers — undaunted by the weather in the faithful support they have shown for the children at Elmcrest over three decades.
And the weather complied. A shotgun-start at 12:30 amid a few sprinkles, led to late-day clearing skies. The contests went on among people who have supported Elmcrest for years. Our heartfelt thanks to these hardy souls, on behalf of all the children whose lives are changed by their support.
Each year the Gary Bobbett Award (named for the tournament founder) is given to someone whose support of our tournament is exceptional. This year's recipients were the Teamsters Local 317 and Secretary Treasurer & Principal Executive Officer Mark May. They have been loyal participants and supporters since the tournament's inception. With their help, thousands of boys and girls have a chance at a brighter future.
Additional thanks are due to all those who help make our on-line auction a success. Forty-nine beautiful and exciting gifts were donated by generous supporters. Bids for Kids found winners among competitive bidders. All proceeds enhance Elmcrest's mission, building on the promise of children and families.
The 31st Kimber's Invitational Golf Tournament Results:
East Course
1st Place with a 63-Team Cartright
Ryan Cartright
Andy Eassa
Bill Snow
Ted Volkomer
2nd Place with a 64 – Team Harris Beach
Dave Capriotti
Dante Capriotti
Randi Capriotti
Michael Brewster
3rd Place with a 64 – Team Autry
Adrian Autry
Gerry McNamara
Allen Griffin
Peter Corsaniti
Women's Closest to the Pin – Christina Ammann
Men's Closest to the Pin – Jamie Kinder
Longest Drive Men's – Dennis Cleary
Longest Drive – Christina Ammann
West Course
1st Place with a 60 – Team T. Rowe Price
Ryan Breck
Bruce Deppoliti
Todd Vales
Dan Adler
2nd Place with a 60 – Team Nagle
Patrick Nagle
Kobie Gibson
Mike Gibson
Kyle Shepard
3rd Place with a 62 – Team Nabisco
Mike Young
Luke Urtz
Mike Urtz
Ryan Blackwell
Men's Closest to the Pin – Dan Adler
Women's Longest Drive – Joanna Ferguson
Men's Longest Drive = Bruce McNutt
Skins – Team Cartright