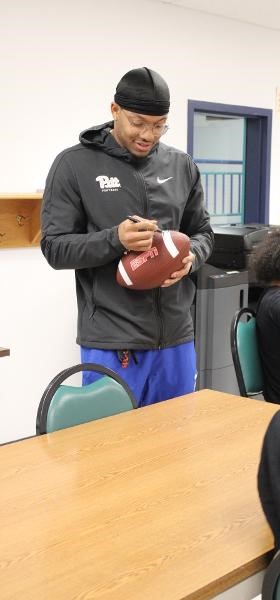 The boys in Cottage #1 recently met football fame first-hand. Cottage #1 Shift Supervisor Myzjala Battle invited her friend SirVocea Dennis to speak to the boys at Elmcrest. SirVocea "Voss," visited the campus and shared his path from CBA in Syracuse to Tampa Bay.
"Voss" grew up in Syracuse, became a star offensive player at CBA, and went on to four years as a valuable defensive linebacker at University of Pittsburg. Last month, SirVocea was drafted by the Tampa Bay Buccaneers.
He forged his road to success by continually pursuing his goals, resulting in All-ACC, and All-American ACC Champion titles. He helped lead Pitt to its first conference championship in some time. His coaches from several of his school years have high praise for his character as well as his athletic talents.
SirVocea was happy to answer their questions. They saw someone whose roots were firmly planted in Syracuse and had achieved his goals through work and determination.
Autographed footballs may have been the highpoint of the day, but as these boys listened to a home-town hero… they were inspired to follow their dreams.
Thanks to Voss@sirvocea for sharing his story with our residential youth at Elmcrest.