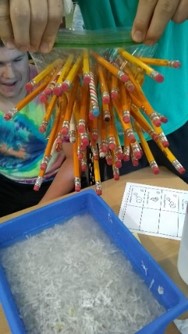 The Science Fair projects still resonate with the student participants and staff at Elmcrest. A grant from National Grid brought this Summer STEM Learning Program to boys and girls on the Elmcrest campus. They learned novel crafts in a variety of workshops and designed some very clever experiments.
Entries such as, "Can a battery be charged using energy drinks?" stimulated interest. Another experiment that moved 55 pencils through a plastic bag filled with water was a surprising success. A true classic was the Rube Goldberg ball run, complete with a description of the famed cartoonist –and it worked!
Field trips to the MOST Planetarium, Wonder Works, The Wild, and Ithaca Science Museum. also enhanced these learning experiences. The children made homemade butter, built water rockets, learned yoga, and even made Arm Pit Fudge. Learning activities in literacy, science, and other STEM activities brought summer fun to Elmcrest.