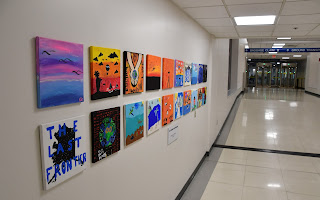 If you are traveling on United, Frontier, or Delta airlines this year, please note the artwork in the Terminal B hallway. The children of Elmcrest school, and Elmcrest art programs, created these masterpieces that will be displayed all year.
These twenty selections were among many that the boys and girls worked on, making 20 selections difficult to choose. The theme was "Travel" and the children responded with creative, colorful, inventive paintings on canvas that captured imaginative ideas.
Be sure to stop for a quick look at all these representations of travel dreams. These young Elmcrest artists can be extremely proud.